Jessika Taneja
MBS School of Planning and Architecture
"Attending the Zenith Personality Development course made me an optimist. Oh my, I was once the most pessimistic girl you'd meet before I joined this program. Zenith changed me on a molecular level, it rewired me. It taught me to be grateful for little things such as the air I breathe, & to give every task everything it takes and to stick to my word. Changing the way I did wasn't was being a 21 year old, but attending the sessions with Gurleen ma'am, and completing the assignments the way I was asked to, made all the difference. I learnt how to deal with situations and with people a lot more better. This is by far the best leadership and life skills education available for young adults like me."
Sachin Mittal
Hong Kong University
"Zenith was one of the many self-development courses my mother found online and I attended this course just because she told me to. To be completely honest, I went into it thinking I won't learn anything. However, once Gurleen ma'am helped me open up my mind, there hasn't been a single second in this training which I thought was a waste of time. From the fun activities to the inspirational stories, my mind has been able to absorb everything that was taught. This experience has really taught me the importance of being open-minded. If we are willing to learn, we will learn. The life skills I have learned here are irreplaceable and indispensable."
Suhani Agarwal
DPS VK
"Zenith is an amazing place to explore yourself. This self-development course and the various self-awareness sessions here gave me a chance to learn about my abilities, my strengths & weaknesses and helped me work on them. Zenith changed my life. It is really special to me. It helped me be a better version of myself, has made me confident and has helped me grow in a way such that I am proud to be who I am today. I am proud to start my new life as a Zenith and be someone who knows the value of her commitments, who knows how to take initiatives, and most importantly, knows how to be in control."
Rahul Kumar
Amity International School
"I am Rahul Kumar, a proud member of the ZENITH family. I have realized the importance of my relationships, friends & family as an inextricable part of my life & the power of acknowledgement. This program has made me realize that I am no less and I can do anything. It makes me realize that I have to become the best. I have discovered the power to put my best step forward and create history."
Mataba Angela Helu
Delhi University
"There was something empowering about the 'Just for Today' assignment and within that week, my mood changed and I actually started believing that I could better myself. Just to shed a little perspective, before the 'Just for Today' assignment, my life was riddled with "cant's" . I can recall a session with Gurleen ma'am, where she asked us to name all our "cant's". I hesitantly started writing them: "I cannot be responsible; I cannot be self sufficient; I cannot be independent." I didn't realize it at the time, but these cant's burdened my life by making me a prisoner to their meaning. So you can say that the Zenith program and the 'Just for Today' assignment freed me forever. I am a new and better version of myself now!"
Shashank Lamba
GD Goenka World school
"Being at Zenith helped me work on the smallest of my imperfections. And apart from that, there have been HUGE changes in me which involve better interactions with people, being more confident and most importantly, being more responsible. Gurleen ma'am always puts in some bits about being more responsible in every session. In fact, there have been entire sessions about responsibility and acceptance. I have really started seeing how my parents and other adults have started regarding me as SUBSTANTIALLY more responsible. I live in a boarding school and before, they didn't let me go to areas just outside the boarding alone. But after noticing the changes in me, they let me travel alone all way back home which is about a 1,000 kilometres. Thank you Zenith! Undeniably one of the best self-development courses out there!"
Maleika Hussain
DPS Gurgaon
"Zenith has made me more empathetic and passionate. It made me to learn a very important life lesson - it's okay to be wrong, but what's not okay is not having the ability to accept and correct the mistakes that you make.
After coming to Zenith, I realized how arrogant I was as a person. It also made me realize how important apologizing is when I'm wrong. I can proudly say that Zenith has made me a much calmer & empathetic person. After learning about the importance of self-awareness, I have a deeper thought process and I am now a better version of myself, whose passion and participation for the better things in life like music, art, writing, gardening and staying within nature has increased. My unnecessary comments have reduced significantly, transforming the relationships that I share with the people around me for the better."
Siddhant Choudhary
Lotus Valley International
"At the start of this training, I didn't know my capabilities, strengths or weaknesses. I was completely oblivious to the actual magic inside of me. I was irresponsible, I used to be afraid to talk in front of people and express myself, and I used to be nervous all the time. I was never sure of myself and my proficiencies. But now, I have seen myself transform into someone who now takes the initiative to speak at every chance he gets. I have become responsible for what I say and do. I have become sure of myself and my achievements. I have started seeing the good in the worst of situations. I have also learnt the true meaning to a miraculous word- gratitude. I am proud of myself today."
Akanxa Swami
Ashoka University
"The Personal Intelligence module has helped me to achieve a lot of things. With every module, it was an insight into my strengths and my weaknesses. I saw myself becoming more productive, resilient and expressive over time. I think the best part of the course was that it wasn't tedious, time-consuming or requiring a lot of hard work from me. What it needed was just my willingness to follow through with complete honesty. Once you start discovering new things about yourself through all the one-of-a-kind quizzes and assignments, you wouldn't want to stop until you know everything that there is to know. Being a University student, I believe it was beneficial because I do realize how sought-after these skills are in the real world and as I go on for further studies and job prospects. Since I have come to know of the significance of these skills, I also understand how crucial it is for young people like me, to attain them. I see people around me with these skills doing better than others, and hence I know that whatever I get from this course works."
Saira Singh
Heritage School
"I was surprised to realize that this course has not only changed the way I felt about myself but has also changed the way people perceive me. I realized that sometimes you have to step out of your comfort zone to think out of the box and strive to be among the 1% of people who think, act and do things differently. I now feel like an improved version of myself, someone who can see things from a different perspective, make people look at her side of things, step out of her comfort zone, go that extra mile, put my ideas and thoughts across in the most efficient way possible, prioritize well, make clearer decisions, and be a part of that 1% of people on top. I now have the chance to prove to the world who I really am - I AM ZENITH!!"
Prachi Pahwa
Monash University
"The chance to transform from an ordinary being to an extra-ordinary human being is what Zenith has blessed me with. After joining Zenith, the biggest change within me is that I have become a person of my word. I value my word as much as I value myself. For me my character is much more than my reputation. I also believe we can't savor the food of success until we fail in life. I handle failure with great enthusiasm and it helps me to achieve all my goals. To sum it up, I would like to say that Zenith is a platform & a solution to every adolescent's problems."
Anupriya
Vikas Bharti School
" Zenith has helped me gain immense self-confidence. Zenith has proved to be a turning point in my life. Zenith has taught me that nothing is impossible and that 'EVERYTHING IS POSSIBLE IF MY WILL IS STRONG AND MY VISION IS CLEAR.' Now I dare to think out of the box. My thought process has completely changed and has become more positive and constructive. Now people admire me and see positive changes and good qualities in me. The purpose of joining Zenith was to gain confidence and integrity and I can rightly say that my purpose has been achieved and fruitfully fulfilled. Now I really feel that I am a different, more progressive, confident, admirable, disciplined, and a much more creative person than what I used to be."
Eshika Gombar
Miranda House, University of Delhi
"I have overcome my fears and weaknesses by being a part of Zenith. Zenith is a dreamland, and I think it is a necessity for every child. I really enjoyed the Zenith sessions because every session was full of positive energy. Being here I have gained innumerable qualities like: I am now really confident and have overcome my stage fear, I have improved my oratory and writing skills. I can now deal with people and situations when needed and I can control my anger. I can say that this journey has been the most beautiful journey ever of my life."
Shivamm Gupta
American School
"The Zenith Leadership program is one of those very few programs in the world that has changed the lives of many. I turned out to be no exception. Ever since I joined this amazing course, I have become a much more hard working person. Previously, I used to be very lazy and thought that things would happen by themselves. I have started to do much better in school. I have become a much more open person and because of that, the relationship between me and my parents has become stronger. I have developed a more positive attitude which was not the case before I came to Zenith. I used to have a very negative attitude and I never appreciated whatever I got. This platform has helped me grow into a better person."
Niharika Vig
Shriram School
"I started my journey at Zenith with apprehension and fear. The little voice in my head was asking me to quit even before starting. But I didn't know that Zenith would just change my life.
Zenith taught me skills that I was missing. I realized the power of words, I learnt to acknowledge the presence of the people in my life, to apologize when I was wrong. I also learnt to overcome my limiting belief & my fears: the biggest of which was to speak in front of people. I learnt to remove the letter 't' from the word "can't"- and to always say, 'everything is possible'. I even learnt to see the reason behind what people were saying & to listen beyond words. This course has given me the power to create goals for my future, the ability to have a vision and to take action for it.
'Walk the Winners Talk' gave me the method to put my thoughts into action. I also learnt to say 'NO' and fight for what was right.
The 'Z' principles taught me to be courageous, patient and honest.
Now, when I look back at my achievements, I feel really proud of myself and I am grateful to my parents for introducing me to this wonderful course. Thank you ZENITH!! Thank you Gurleen ma'am for adding so much power to my life."
Ria Ahuja
Lancer's Convent
"I learnt how to change my negative beliefs into POSITIVE BELIEFS!! I also learnt what my STRENGTHS were and what my weak areas were that needed to be worked upon!! I also got to know about my CIRCLE OF EXCELLENCE and how I can improve on my weaknesses. The BEST MOMENT for me in ZENITH was that I got to know 'The power of relationships' and how we can change our life, when we change our relationships. I learnt to break my limiting beliefs. I also built up on my weak areas such as: attitude, confidence and self expression. Now I have a GOOD RELATIONSHIP with my family and other people around me; I am much more confident; I express myself fully to others so that they understand me and they now admire me even more than they admired me before! I AM A ZENITH! I will NEVER QUIT in life! I will NEVER GIVE-UP!"
Divyansh Sharma
"Zenith Leadership Programs are the best programs I have ever attended in my entire life. I am a keen learner and have supportive parents as a result of which I have participated in many programs. But this has been the best experience. I want to thank Zenith for giving me the power of can, boosting my confidence & helping me to make commitments and follow through, making me capable of taking responsibilities and changing my attitude. Zenith will always be in my heart. Thank you Gurleen ma'am for everything. I would recommend this self-development course to everybody!"
Radhika Panhotra
The Northcap University
"This program has helped me evolve into a completely new person. Someone who can make a difference and guide people as a leader. Someone who is her own leader, fights her fears, manages her problems, and dumps her excuses. This has been a very fruitful journey for me."
Janpreet Kaur
George Brown College
"From this program, I have learnt a lot of things which should always come first in life, even before academics. I got to know the power of and apologizing to & acknowledging people. I got to know that these are the things which help us build the best relationships in life. This program has made me confident and made me realize that a Zenith is someone who believes in the power of 'can', and not to reacts but to respond. I believe in being calm and composed and not volatile like I used to be."
Tiyasha Chakraborty
GD Goenka World School
"It took me real long but Gurleen ma'am happened to be the one to make me realize that other people's opinion of me really do not matter. What matters is whether or not I respect myself and do things that make me and my dear ones proud.
Being at Zenith has worked wonders for me and I am so glad that I got an opportunity to be a part of this incredible journey. I am really grateful for Zenith and the team who helped me lead a better life."
Aashna Nahar
The Northcap University, Gurgaon
"What really made this journey different was that Gurleen ma'am made sure that we put solutions to practical use. So after our sessions, we were given assignments based on what we had learnt that day. And the Zenith team made sure that we do our assignments with complete sincerity because the next day, we would be asked us to share our experiences. For instance, the day that we had a session on relationships, our assignment was to go back home that day and acknowledge our parents for whatever they have done for us till date. We were given the magic of the '3 A's'. We realized that just like in the game of Tic Tac Toe, to master the skill of forming relationships, the '3 A's' must be in line too.
In my mind, I was just doing the assignment but what I really did not realize was that I was actually making a new start with my parents, breaking the ice and building a stronger bond with them."
Bikash Behera
"I used to wonder how any program could change me for the better within just a few months. And not just this program, I was cynical about everything in life. I trusted no one, never appreciated anything, criticized everything and mostly saw the faults in people. I almost started considering a career as a critic. And then on the 6th day of the program, in our session, Gurleen ma'am said something beautiful, "If you want to be appreciated, learn to appreciate others. If you want to be heard, learn to listen and if you want to be understood, learn to understand others." And in that moment, it clicked to me as to why all my life I felt underappreciated, unheard and misunderstood."
Khushi Balhara
APJ Saket
"I have started maintaining an optimistic demeanor no matter the circumstances. I focus more on the 'what else' instead of the what is seen in plain sight.
Zenith has changed my life. It has taught me to live with confidence and sheer determination. Now, I feel like I am ready to face every hardship and obstacle in life. I think hardships are an opportunity for me to reach my Zenith. It was so much fun discovering myself. I realized that I am a buried treasure of good qualities that could make a successful individual."
Rohan Budhiraja
"I was an argumentative person and never really cared about what anyone said. It was the session on the '3 A Magic and Relationships' that really changed my life. I can't forget the day when I was met with the realization that "If you want people to listen to you, listen to them first, if you want people to understand you, understand them first or for that matter, if you want people to express themselves to you, express to them first."
Now I am a changed person. I am co-operative and happy. Zenith has taken me to another world, a world that is beyond everyone else's reach. This is a world where the winds have changed, a world where I am cool tempered. I now know my fears, I consider trusting people and I have grown in my relationships. I have also developed in my ability to listen."
Prakriti Gupta
"Before joining Zenith, I was a very different person altogether. I was someone who used to be very shy, not at all confident & scared to talk. On the first day, I was clueless about what the program would be like and I wondered if I would be able to stick to the program for these many weeks. But during the program, I was surprisingly dedicated and committed enough.
Earlier, I used to believe that I was not dedicated, which was in fact, a limiting belief. This was something that I realized as we were made to do an exercise named 'Invisible Chair'. My legs were hurting but I did not give up. At that point, I decided that nothing is impossible and I have the capacity to stay committed for as long as I want. I was the type of person who could never open up to others. I was just so scared to go out on stage. I would start stammering get nervous. I have now learnt to be confident in my own skin and my own abilities.
The assignments which were regularly given to us, each one of them contributed and helped me become a better person overall."
Kushal
G D Goenka Public School
"I want to thank the Zenith Leadership Program for adding confidence to my life. I have changed my attitude. I want to acknowledge Zenith because this platform has made me confident, responsible and so much more. Thank you Zenith, for building my personality!"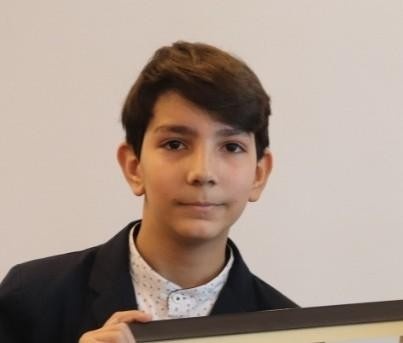 George Rogovskii
Vandana International
"I have transformed myself into a completely new George. I had always been a shy and introverted boy. It is at Zenith that I discovered the power of my true capabilities. My "cant's" have changed into "cans" , opportunities have gained importance and I have discovered my empowering beliefs. My time at Zenith and the self-awareness journey that I have experienced here has helped me to grow and shape myself into an individual who will rise to become a better person in life. It has been a beautiful journey indeed."
Eeshaja Swami
GD Goenka World School
"I had always been so nervous about being at new places and often questioned what others thought about me. Nevertheless, today I possess an abundance of confidence in myself and my capabilities and this has only been possible because of this self-development course. Now that I have completed this course, I am a completely new person and I can now proudly say that, 'I have broken all barriers and my limiting beliefs, I have stepped out of my comfort zones and have started taking feedback in a positive manner.' I can proudly call myself a ZENITH today."
Manish
DPSRU
"Earlier, I was not really good with my language skills but then I sat down to create an action plan with the help of my mentors. I started noting down new words, using them in my vocabulary & I worked on my pronunciation. Even today, I know you might not find me to be great and would still identify a lot of errors as I speak, but the difference today is that I will not let my fear stop me, I will keep trying till I get perfect.
I now feel, I am in control of my situations. I have worked on building a constructive attitude and applying my critical thinking skills to resolve problems."
Mehak Jain
DPS, Sushant Lok
"Zenith has become a part of me, it's who I am. Zenith, with all it's sessions, has helped me to realize my true self & my capabilities. I was able to truly improve myself through this platform. I had lost all confidence in myself. But today when I see myself, I see that I stand here as a Zenith, as someone who has the power of self-belief within and someone who is capable enough to be on top, at her Zenith. Today, I stand here like a pyramid, who can't be shaken or broken, no matter the kind of storm that hits her."
Mudita Jaisingh
NTT Bal Bharti School
"I have become much more responsible. I have started being punctual. Zenith has also improved my relationships. Now I admire myself. It has taught me to be positive about myself and to never be negative. Zenith has also taught me the power of 'CAN'."
Avni Batra
University of Arts, London
"Zenith has been so interactive and fun, I almost never wanted to leave. In just a few days, I have learnt that if something is important to us, we will find a way to do it, otherwise we will always find an excuse. One of the greatest things that I have taken from Zenith is having the power to resolve my anger issues rather than leaving that department to how other people treat me. Zenith has given me the confidence to be myself, no matter where I go."
Rikin Singh
York University, Canada
"Zenith and the way it approaches emotional intelligence for teenagers, for me has been the platform where I discovered my true self which I had been hiding behind my fears for the longest time. It is indeed a very sacred and powerful place which demonstrates what's truly possible."
Rajsi Sharma
GD Goenka World School
"In a matter of 3 days, Zenith to me became a place that drove me to push myself as far as I could go. It was a platform where I could truly transform myself into someone who I aspired to be. Zenith has made me realize that every problem has a solution, all it needed was only a small shift in my lens to see the right perspective that would make all the difference."
Chaitanya Kannan
Delhi Public School, Vasant Kunj
"My presence at Zenith had me evolving every single day. I was slowly discovering changes in myself such as in the way I walked or the way I spoke to others. For me, Zenith was like a key that opened the door in my mind that was closed for too long. It reignited a spark in me, for which I will forever be grateful. Zenith awakened the leader in me."
Phinza Aggarwal
Scottish High International School, Gurgaon
"Zenith is the platform where the impossible changes to possible, where you choose to control your life and not let life control you. It is where you choose to be happy, to learn, to be the winner rather than being a victim of situations. Zenith is the place where you choose to be a better person."
Dev Pahwa
University of Waterloo, Canada
"At Zenith, I learnt that there is much more to life than just being alive. I learnt that there is always a different side to things than what I usually see. Here at Zenith, I understood that by using the word "can't", we only end up making excuses. The thing that I didn't realize was that while I was busy having fun, Zenith was shaping me and turning me into a leader for tomorrow! I couldn't have asked for better 3-days than what Zenith gave me."